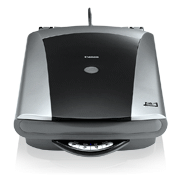 Using the Canon CanoScan 8400F scanner on Windows 8.1 directly is not possible, as there are no matching drivers, neither for the 32bit nor the 64bit version, or in fact for anything newer than Windows 7, and I don't really see an updated version coming. However, all is not lost … but the solution is slightly technical.
The obvious solution is to keep your old computer, if still in working condition, for use with your scanner and any other hardware that has been left behind by computer evolution. You may however not have your old computer; the very reason why you got a new one might simply be that the old one died.
What I've done is to use the scanner via a virtual machine, in essence installing on your Windows 8.1 computer a program which thinks it is a separate computer altogether, which may be running Windows 7, or any other operating system required to use your hardware or software that doesn't work on Windows 8.1.
I used Oracle's VirtualBox, which is free and, as far as this sort of thing goes, reasonably easy to use, though if you are a novice at computers you may want to have a slightly more tech-savvy friend help you set it up.
You also need to install a VirtualBox Extension Pack in order to get full access to the physical computer's USB ports. This one worked with mine, which at time of writing is version 4.3.14.
Then you need a copy of Windows 7 to install on the virtual machine. Most likely you'll have to make do with a 32bit version, but that's really all you need. If you happen to have a copy lying around, you can probably use that, as long as it comes with a valid licence number, and isn't locked to any one computer. There are cracked versions, but they may come with all sorts of risks of viruses and other malware, so pursue those if you will at your own peril. The trick here is to know what you're doing, or have someone who knows do it for you.
Once Windows 7 is completely installed and configured, it's time to install the drivers for the Canon CanoScan 8400F scanner. They're available at Canon U.S.A. (I noted that, for example, the Norwegian Canon support page lists the Canon Toolbox software, but no longer carries the actual driver, making the Toolbox pretty much useless). When the driver is installed, it's time to connect the scanner to the computer, then in the VirtualBox Devices menu select "USB Devices", then "Canon CanoScan [xxxx]" (where "xxxx" is a number identifying the scanner).
Also install your favourite software for scanning and saving images (I prefer Irfanview for the simple jobs). Once saved, you may transfer the images to the physical computer by way of shared folders.
So, in short:
Install Oracle VirtualBox.
Install the VirtualBox Extension Pack.
Create a Virtual Machine in VirtualBox suitable for running Windows 7.
Install Windows 7 on said Virtual Machine.
Download and install the Canon CanoScan 8400F driver software.
Connect the scanner to the computer and turn it on.
Go to the "Devices" menu, select "USB Devices" and "Canon CanoScan". The driver should now self-install.
Install your favourite scanning software.
Start scanning.
That was the installation for first time use. Now that it's all set up, next time you start up the Virtual Machine the process of using it is as follows:
Keep the scanner disconnected or turned off.
Start VirtualBox and the Windows 7 virtual machine.
Once Windows 7 has finished starting up, turn on or plug in the scanner.
Go to the "Devices" menu at the top, select "USB Devices" and then "Canon CanoScan"
The scanner should now be ready to use, and you may start scanning.
Disclaimer: I give no guarantees for the information here provided, neither as to whether it is safe, nor that it will even work on your computer, although I can state with certainty that it did on mine. I also do not provide support, whether technical, moral, emotional or spiritual, for any of the software or solutions above. No, I can't and won't send you a cracked copy of Windows 7. Be as cautious with the software listed here as you would be with any other software, with regard to malware, virus or compatibility, and don't consider me any more reliable than you would any other semi-anonymous source of information on the Internet.
This blog post is based on a few hours' extensive Googling, but mainly on this forum thread along with the need for the VirtualBox Extension Pack in order to properly use the USB 2.0 drivers.
Links: