My heartfelt congratulations to Malala Yousafzai on being awarded the Nobel Peace Prize of 2014. May she continue to be an inspiration and a driving force in the work to bring education to children all over the world, and truly make the world a better place.
Also, I find it wholly fitting that she shares the award with Kailash Satyarthi, whose work for children's rights, and against the exploitation of children, runs parallel to that of Malala.
"Why just Malala?" I hear some ask. "Other girls fight and die for the right to education every day!"
While it is no doubt true that there must be many others who are just as deserving, as chance would have it, Malala was the one who happened to come into the public eye. One could, and probably would, ask the same critical question about any other girl who, like her, happened to get the same attention.
"Why her, and not someone else?"
The way I see it, Malala is deserving, and yet she also represents all the other girls, women and other people who fight for the same goals.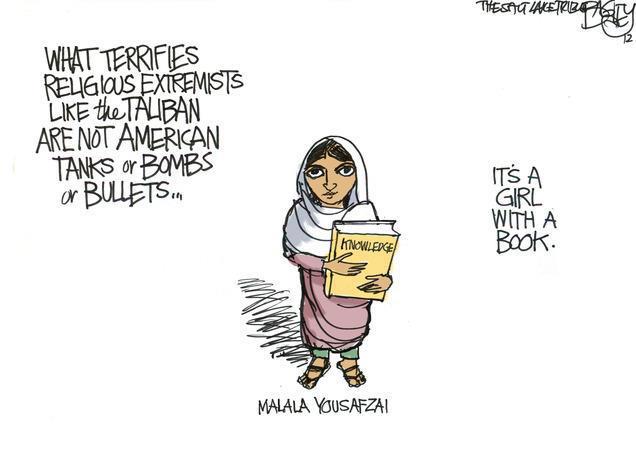 Malala Yousafzai represents courage, wisdom, understanding and empathy. She works for peace and freedom, and, although she was nearly murdered for her cause, she does not seek vengeance against her attackers, but rather she wishes for her attackers' children to receive the same education that she wants for herself and everyone else. She knows that the best weapon against Taliban, against Boko Haram and others who oppress people in the name of religion, is knowledge, because better educated people might not be lured by the false arguments of the oppressors, and thus their power over the people would dwindle and fade.
Hopefully, with the Nobel Peace Prize in hand, Malala's voice will become even stronger, carry farther, and have an even greater effect in those parts of the world where it is most needed.
For the occasion, I've been considering words that start with the letter E:
Education,
Enlightenment,
Encouragement,
Empowerment,
Empathy and
Expectation.
But as Malala says, "This is not the End!"
Relevant links: