Dear Holt International Children's Services.
Today, January 9th, is the 45th anniversary of my better half's "Gotcha Day" in 1970, which YOU served to facilitate. You will no doubt be proud to know that this ruined her childhood and pretty much all of her adult life.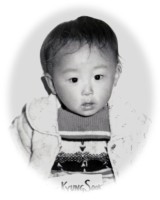 She, like so many others, was adopted as an "orphan", yet as she was deposited into her adoptive mother's arms at Fornebu International Airport in Norway, her real father was searching for her in Korea, and continued to search for years more until he died, never knowing what happened to her. She would have grown up with a loving father and three older sisters, had she not been stolen and sold by your agency.
What good things she has in her life, and I like to count our children and myself among those, do not even begin to dream about compensating for what this adoption deprived her of, as well as the abuse and neglect she was put through in her "wonderful forever home".
On her behalf I would like to say,
"Thanks for bloody nothing!"
For the uninitiated, Gotcha Day marks the date when an adopted child is handed to the adoptive parents, and is celebrated by many adoptive families with the same vigor and cheer as a birthday, with complete disregard for the fact that the child has experienced the separation from his or her parents, the time in the hands of the adoption agency and/or orphanage, as well as being handed over to a bunch of total strangers, as a devastating, traumatising personal tragedy.
~o~
My better half is the author of the autobiographical, international adoption-related book "Cries of the Soul: The True Story of a Korean Adoptee's Fight to Survive", where she speaks of her experience as an international adoptee.
In 1970, shortly after the death of her mother, and without the consent or even the knowledge of her father, a barely one year old girl is put up for foreign adoption in South Korea. She ends up in an adoptive family where she spends her childhood suffering neglect and abuse at the hands of her adoptive parents. "Cries of the Soul" tells a story rather different from the more common, picture-perfect fairy tales of the adoption industry. With her original childhood and natural family stolen from her, Khara Niné describes the harsh reality of coping and trying to fit into a family where she doesn't belong, of grieving the loss of parents she can not even remember, and the emotional scars which she is still struggling to get to grips with more than forty years later.
Relevant links: