Oh, to have flown away
to have been on Svalbard today
where the sky was clear and the sun shone bright
until the moon took away the light
Or something.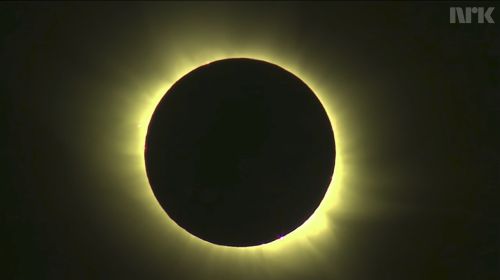 Much as I would have loved to, I did not take this picture. Well, at least not in the photographical sense. I "took" it, i.e. rudely snatched it, from NRK's live stream out of Longyearbyen. Shame on me!
Today's solar eclipse took place behind a veiled sky and a slight drizzle, hardly optimal conditions for such an occasion. However, about halfway into the event, the cloud layer thinned and the sun shone through just enough to show itself as a bright, yellow crescent. Things were afoot.
It was raining, however slightly, so I set up my camera and tripod on the balcony underneath what cover I could find and managed to get a few shots. The pictures turned out less sharp than I would have liked, considering that my Venus transit images from 2012, using the same setup, were crystal clear, but I'll blame it on the weather.
Yeah. Bad weather!
Images from here on are © me. Not the NRK one up top. The other ones. You may click to make them bigger.
At 10:30, just after I discovered the clouds had thinned and the sun was growing more visible than expected. Rather one of my better ideas, I'd say, looking out the window after all.
Maximum, at 10:53. The clouds had kindly thinned out further, though not vanished completely. Stupid clouds, but not stupid enough.
Maximum, at 10:53, a closer look. Not at their very sharpest, but there's no denying that they look pretty lovely together.
Eight minutes past maximum, and the clouds are thickening. Shortly after that it was game over, and back to watching the live stream from Svalbard.
So now it's just a matter of waiting for the next one, and hope for better weather. It's just a matter of … time. Tick-tock and all that.
Cheers! 🙂