This Facebook post of mine, which I wrote it in response to the terrorist attacks in Oslo on July 22, 2011, popped up as a Facebook Memory today.
Just poked my head outside, and saw a butterfly land on a flower to drink nectar. No camera at hand right then, I merely watched for a couple of minutes until it was done and flew away. It doesn't know a thing about what's happened in Oslo; it's just happy to have lots and lots of raindrop-covered and nectar-filled flowers to visit. I wish it a pleasant, wonderful Saturday, though it seems to already have that 🙂 💬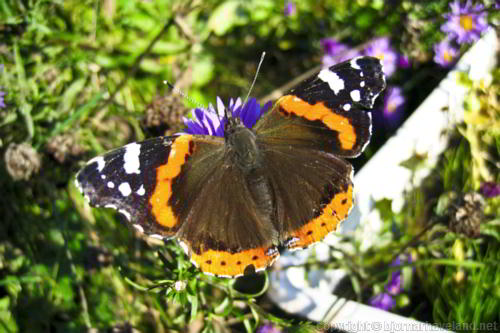 Archive butterfly photo © bjornarhaveland.net
I take it as a tiny reminder to myself from five years ago that, although terrible things happen in the world, and terrible people make them happen, all is not terrible, that there are wonderful and beautiful things still in the world, and that we need to see and remember those wonderful and beautiful things or else the terrible things may make us forget them, and choke us with fear and horror.
There is beauty and wonder great and small in nature around us, but most importantly also in us humans and in the things that we do together and for each other, and in the children whom we raise to live in the world and the society which we leave to them, who will be people like us and have to live with the consequences of the choices we make and the actions we take.
It is important that we hang on to those things of beauty and wonder because they're what we must work hard to keep, and with what's happening in the world it's easy to lose sight of them. It's too easy to divide humans into "them" and "us", and to say that we must hate "them" to protect "us". Blacks and whites. Easterners and Westerners. Christians and Muslims. But if you look at the terrible things that some people do, you will find that they are doing them out of hate. That's what hate does. Hate divides, and hate destroys. Hating has never made anything better. Telling people to hate other people, even other people who hate, will only make matters worse, and if we embrace hate, even if only to protect ourselves from others who hate, then the beautiful and wonderful things that we want and need to protect and hang on to won't stand a chance. Either they will be ruined and gone, or we will be too blind to see them.
It doesn't matter if the hate or the arguments that support or encourage hate come from a terrorist group, or from people among ourselves, or from politicians and national leaders who base their political careers or election campaigns on hate rhetorics. It is destructive whichever form it takes.
I don't believe that the wrongful or hateful actions of one person or a few individuals represent the entire ethnic group or nation or religion to which they belong.
I don't believe that the murderous actions of a lone hateful Muslim lorry driver in Nice represents the average Muslim, any more than I believe that a lone Christian white supremacist on a murderous shooting rampage in Norway represents the average Christian.
Nor do I believe that Daesh or IS represent the average Muslim, because much as they are a threat in the West, they are at least equally much a threat to other Muslims in their home countries.
And I do not believe that Christian extremists who kill people at abortion clinics, or Christian evangelists who say that the real tragedy at the Pulse nightclub in Miami is that not more gays died, represent the average Christian.
We as humans must deal with those who do terrible things, but not with hate. Hate is their tool, their weapon, and if we try to use it, it will turn back upon us and take us down, and we will become precisely that thing which we tried to fight against in the first place. Then we will be doing the work of the people who do terrible things for them, and then they will succeed anyway.
We must try to do just things, not with hate against those who do terrible things, but with love for the wonderful and beautiful things that we don't want to lose. Only then can we deal with the people who do terrible things without losing those things that are precious to us.
I really, really think that this is not just important but completely essential, if we as humans are going to be able to become who we wish to be. We must be very mindful of what kind of society we want to have, and leave for our children, and how our attitudes and actions may help or hinder us on our way to that goal.
While I was writing this, not one but two butterflies fluttered in through the open balcony door, made rounds around the room and fluttered back outside, as if to remind me of the beautiful and wonderful things that made me start writing this in the first place.
I'd just like to say that I wish you all a wonderful, beautiful day, every day, filled with more love, and less hate, with more joy, and less fear.